A long-standing question from my clients outside of North America is… "can I convert my car from bluetooth voice control (BVC), to Sync 3?" Previously, this wasn't possible without a ton of manual wiring and repinning your connections. Now, NaviUpgrade.com has developed a fully plug and play harness to take your Ford Focus, Fiesta, Kuga, C-MAX, B-MAX, or Transit from BVC to Sync 3. This harness has been developed from the ground up, all around the BVC system in order to fit the unique connectors that your vehicle is equipped with. Our harness will work with both the Euro Sync 3 trim control panel, along with the US Sony Sync 2 trim control panel out of a 2012-2014 Focus in the US.
Determining if your vehicle has BVC or Sync
First, you're probably wondering "how do I know if I have BVC in my car?" Well there are two ways you can find out, and we would recommend checking both just for safety to ensure you're purchasing the correct harness for your vehicle. The first thing to check off is making sure your car is not a North American model. If your vehicle is a North American model there is 0% chance you're dealing with BVC. If you have a global edition vehicle and you are based in the UK, Europe, Russia, Middle East, Africa, Asia, Pacific Islands, or Australia, you are most likely to have BVC.
So here's the first way to check if your car is equipped with BVC or Sync. Under bluetooth, check and see if your car has either of the following bluetooth connection names:
FORD AUDIO — This means you're on BVC and will require our BVC upgrade harness.
SYNC — This means you're on Sync (also referred to as Sync 1 or 4″ Sync), for this, you'll need this harness, and to follow this guide.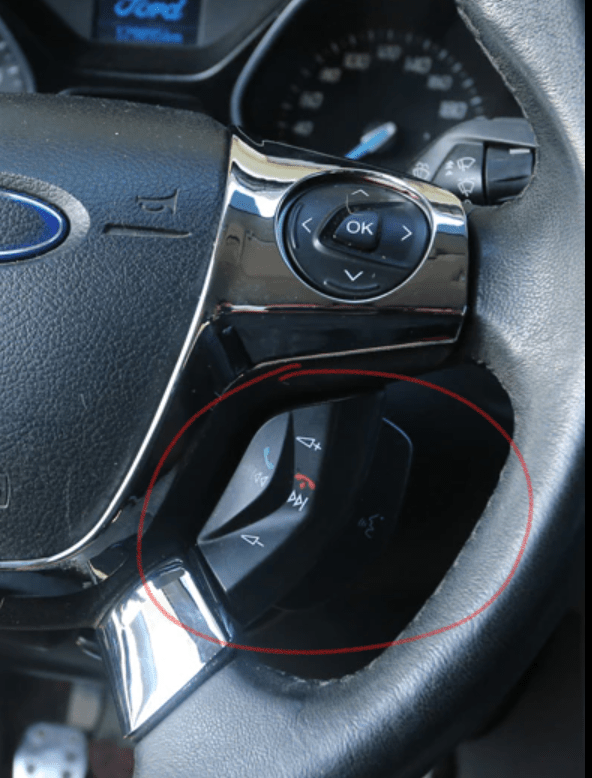 The seccond way to check, is look at your steering wheel, if your steering wheel looks like the above, most likely you have BVC.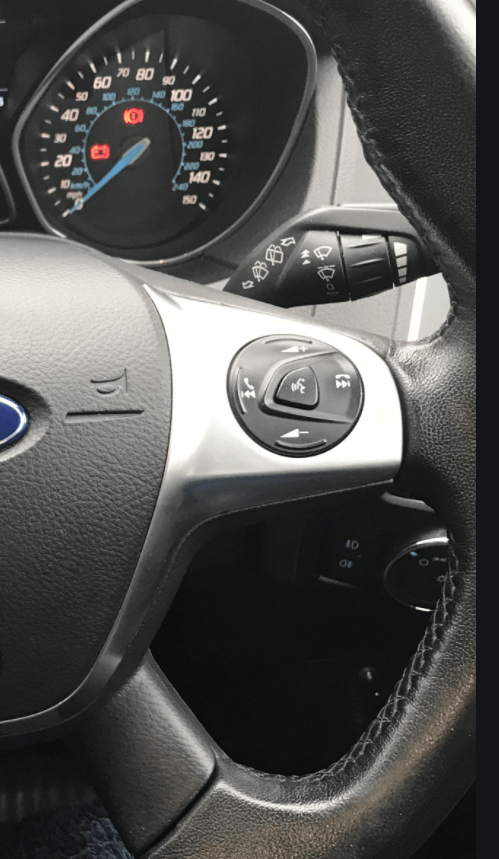 If your steering wheel looks like the above, most likely you have a base version of Sync, which requires a different harness.

If you want to be totally sure if your car has BVC (which we would recommend prior to reading further), please disassemble the front trim controls panel below your screen, and find your voice control box, which looks like this below.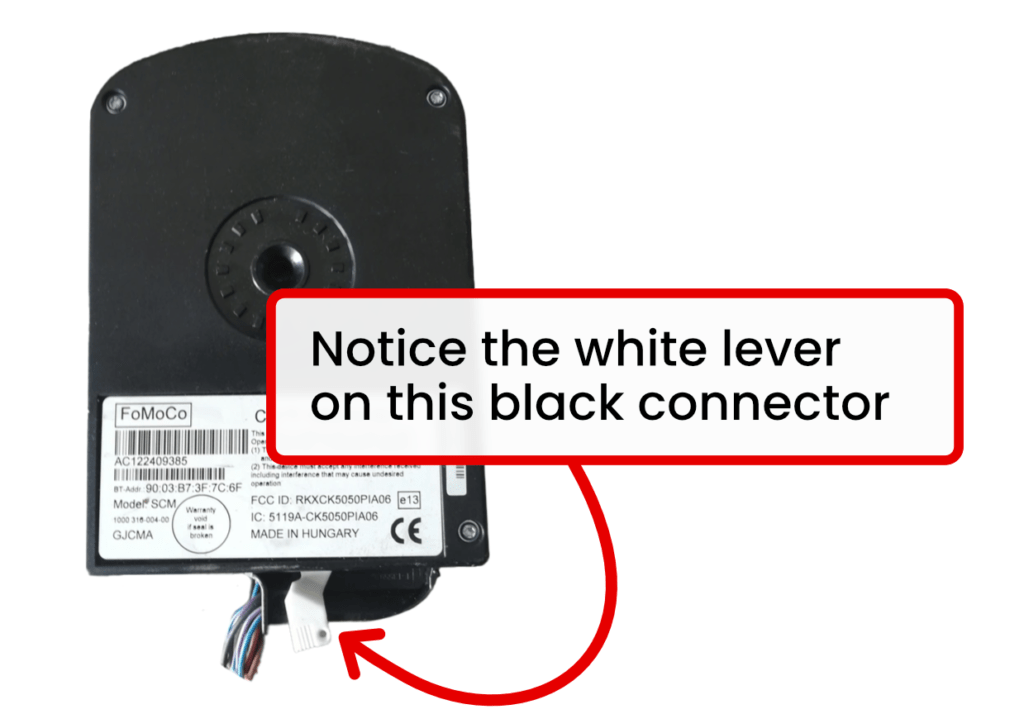 What you're going to be looking for on this module is a white swivel level connector with wires coming out of it as seen in the image above. If this connector is black with a gray lever, you have Sync, if your connector is black with a white swivel (as shown above) your moduel is BVC and requires this upgrade procedure
What you'll need for a BVC to Sync 3 Upgrade
For this project, you will need quite a few things, starting with Sync 3. You can purchase a non-recessed display, APIM, and mounting brackets here…
For your project you will also need a compatible Audio Control Module (ACM) for your Euro vehicle. On the Focus, you'll be looking for part number F1BT-18C815-LP. Essentially, you're looking for an ACM for your vehcile that features DAB, and has two connectors on the back of it, a 24 pin, and 26 pin connector, like this: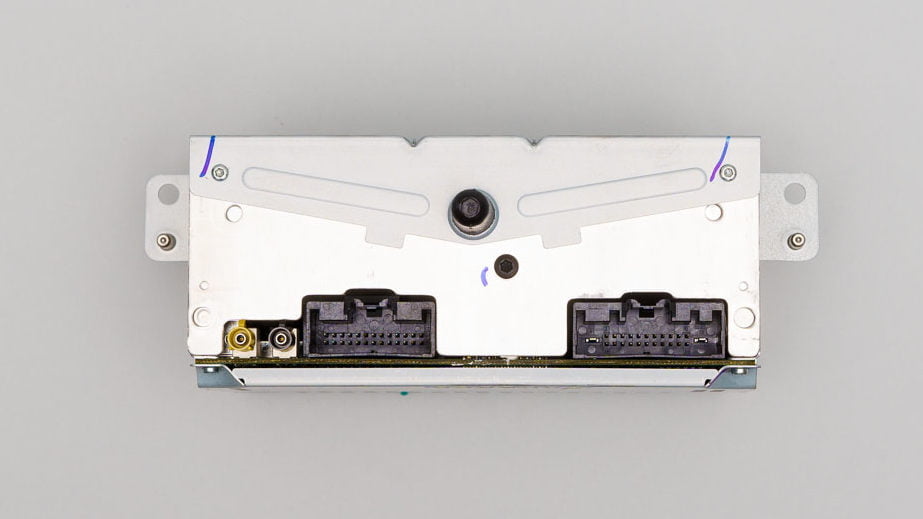 Next, you will need the mounting bracket to properly fit Sync 3 into your vehicle. There are a couple options for this, including a DIY, 3D printable bracket you can download the STL's for here: Sync 3 Bracket for Ford Focus on Thingiverse
You will need a FCIM, otherwise known as a Front Controls Interface Module. This is the trim controls panel that goes around your display, with volume, next/previous buttons etc on it. For the Focus, our harness support both the facelift Euro trim controls panel and the pre-facelift (2012-2014) USA Sony trim contols panel. One thng to note, is if you do decide to fit the 2015+ Euro trim controls panel, you will need to use a dremel or small hack saw to get it to properly fit in your prefacelift car. Check out the photo below to see what trim controls panels our harness supports.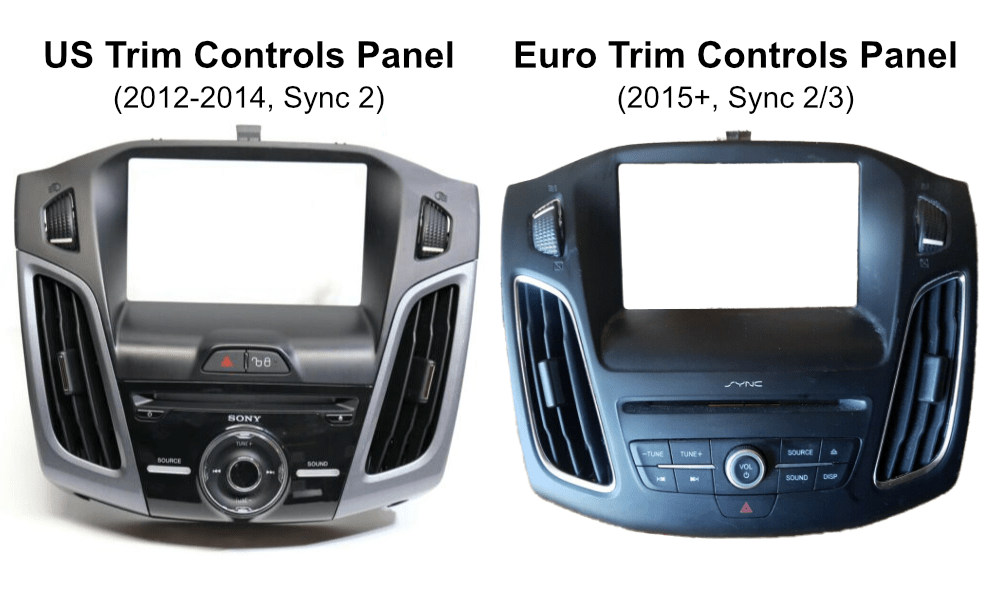 If you would like to go the OEM route, please purchase part number: CV6Z-58042A82-A
This is available from Tasca Auto Parts here: Buy from Tasca

You will also need a bottom trim piece, found under part number: FIEB-A046B74-ACW

If your vehicle is equipped with a Factory Reverse Camera, you will need to order a FAKRA Z to Male RCA pigtail. You can buy this on Amazon, here: FAKRA to RCA Male Pigtail

You will also need a 2-3m long Mini USB Male to Mini USB Male cable that supports data tranfer. This is used to connect our USB hub to our APIM. We recommend our Sync 3 USB Cable.
In order for GPS to function, you will also need a FAKRA GPS Antenna, available on our website here, or from multiple sellers online:

To get Apple CarPlay and Android Auto working, you will need a compatible, Dual Port USB Hub, available on our website here:
Finally, you'll need our BVC to Sync 3 Conversion Harness, available for pre-order on our website, here:
Converting BVC to Sync 3
Since we are based in the US, we unfortunately don't have a video doing this upgrade, but it's extremely similar to doing our 4″ to 8″ converion in the US Focus. Essentially you'll follow the entire process of the install of the 4″ to 8″ upgrade, but run the OBD2 tap over to your OBD port in your driver footwell. This connector will tap into the factory CANBUS network and allow you to still plug in other devices like a Cobb Accessport, OBD reader, or other other accessories.

To see the general guideline of installing Sync 3 into your car, you can follow along with our video guide here:
Programming Sync 3 to your BVC Vehicle
While we will still be providing programming files with the purchase of a harness — there is going to be some manual programming that you will need to do using a different app, FoCCCuS. You can download the FoCCCus app here: Download FoCCCus

To connect to your vehicle, you will need to use an ELM327 adapter, here's the one we recommend: VINT ELM327 Switched OBDII Adapter.

Once you have installed your Sync 3 in your vehicle, you will need to connect to your vehicle with the FoCCCus and FORScan programs — If you are having trouble connecting to your vehicle with this adapter, please install drivers found here: ELM327 USB Cable Drivers. Once you are connected, please make the following changes in the FoCCCus Central Configuaration to get sound to properly function in your vehicle:
| | | |
| --- | --- | --- |
| Configuration Setting | Label | Value |
| 123 | Audio Aux Input | 01 (without) |
| 125 | DAB Radio System | 01 (without) |
| 154 | Module USB | 01 (without) |
| 157 | Bluetooth Handsfree | 01 (without) |
| 172 | Front Display | 09 (DM8 with Nav) |
| 214 | ICP (Instrument Cluster Panel) | 09 |
Once you have made these changes, click "Write to BCM." Once this is complete, click "Write to IPC." Congrats, you've programmed your audio to work correctly! Now we just need to program the Sync 3 APIM using FORScan!
As for FORSCan programming, we will send you a .abt file that is based off of your VIN information. This will allow us to fully integrate Sync 3 into your vehicle's functionality, including auto-parking functionalities, active city stop, and more! To see how to flash a file to your Sync 3 APIM using FORScan, you can follow our easy tutorial here, just be sure to use the file we send your email!