Ford's Sync 3 has taken the place of the older MyFord Touch Sync 2 systems in vehicle's 2016 and beyond. The good news is that if you have a 2011 to 2015 vehicle, odds are high that you can upgrade to the new Sync 3 system. If you are looking to upgrade your older model then there are some differences you should know about. We will delve into these differences so you can better understand how the upgrade works and why Sync 3 is a better option for your center console infotainment experience.
Sync 2 vs Sync 3 Phone Connectivity
It comes as no suprise that Sync 3 will sport some of the more recent advancements of interconnectivity with your smart phone.
First, Sync 2 & Sync 3 do have one thing in common: bluetooth connectivity. No matter if you're on Sync 2 or Sync 3, you will be able to connect your phone to your car stereo via Bluetooth. The unfortunate news is that Sync 2 is known to have Bluetooth failures after a certain number of years. When this happens, you will notice that Sync 2 will begin dropping calls, and potentially not playing music over bluetooth. At this point, your best option would be to upgrade to Sync 3 versus replacing with a refurbished Sync 2 module.
Secondly, Sync 2 is limited to built-in navigation direction services. If your Sync 2 equipped vehicle has this enabled, navigation maps will be read from a SD card located in a hub on your center console. On Sync 3 you are able to use a variety of navigation sources, from built in navigation maps (if your module is equipped), to Apple CarPlay and Android Auto.
Sync 2 DOESN'T SUPPORT CarPlay & Android Auto

Sync 3 SUPPORTS CarPlay & Android Auto!

Sync 2 & Sync 3 Hardware Differences
Sync 2 APIM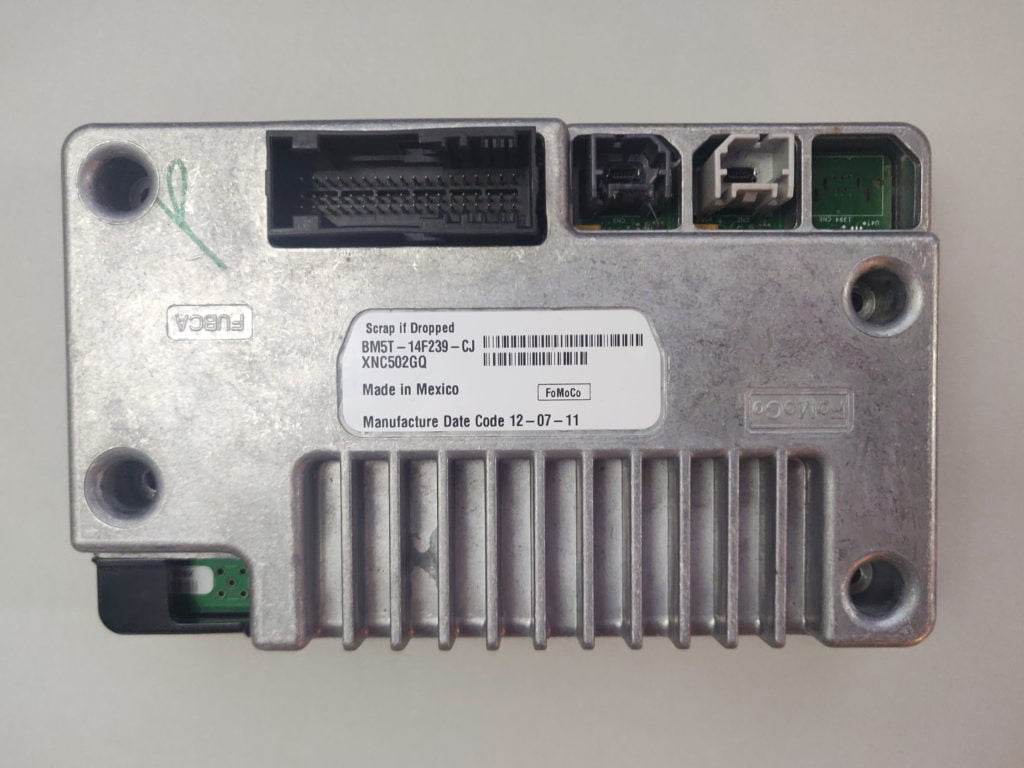 This is a Sync 2 APIM. You can tell that it's Sync 2 due to it's rectangular shape, and small heatsink fins. Sync 2 units come in quite a few variations, some with two USB ports, some with only one. All Sync 2 Units will have a 54-Pin Connector on them.
What you should know about Sync 2
Sync 2 APIMs use an external GPS Module, commonly referred to as a GPSM. This module can be found in most 2011+ American vehicles but is missing from many global cars. This means, that, while you don't need to add a GPS antenna like you do on Sync 3, you may need to retrofit a GPSM in if your vehicle isn't supported.
All Sync 2 APIMs can have navigation enabled. If your module does not have nav enabled, it can be enabled through programming in FORScan. After you enable maps on Sync 2, you must have a SD Card with the maps on them to use navigation features.
Sync 2 & Sync 3 screens are NOT interchangeable. Sync 2 uses a resistive display (think of what touchscreen phones were like before the iPhone), and Sync 3 uses a capacitive display (like the iPhone).
Sync 2 does NOT support Apple CarPlay or Android Auto, if you absolutely must have these features, you have to have Sync 3.
All vehicles equipped with Sync 2 are able to be upgraded to have Sync 3, you just need to get a Sync 3 screen, APIM, hub, and hub adapter, along with a bit of AsBuilt Programming (easy!).
Not sure what you need to upgrade yourself? Check out our plug and play Sync 2 to Sync 2 Upgrade Kits!
Sync 3 APIM
This is a Sync 3 APIM. You can tell that it's Sync 3 due to it's non-rectangular shape, large heatsink fins, and the two blue connectors on the left side. Sync 3 APIMs have changed throughout the years, so keep reading to learn more…
What you should know about Sync 3
Vehicles from 2016 do not have CarPlay enabled by default. If CarPlay isn't working in your vehicle, you'll need to Update Sync, and upgrade to an Apple Carplay Compatible USB Hub.
Sync 3 APIMs do not have a built in GPS antenna, you have to use an external GPS antenna on both Navigation & Non-Navigation units.
Sync 3 Non-Navigation units need an external GPS antenna as well for syncing clocks to GPS time & giving a detailed location to emergency services in the result of an accident.
Sync 3 Non-Navigation & Navigation units are completely different modules and there's no real way to tell the difference just from looking at them. They share the same type of motherboard, but use completely different daughter boards which have either 8GB of storage on the non-navigation module, or 32GB on the US Maps Navigation module.
If your Sync 3 Navigation module has software of v3.3 or older, you can update it to have more recent maps.
You can put any Sync 3 setup into a vehicle that came from the factory with Sync 2. Check out our plug and play Sync 2 to Sync 2 Upgrade Kits!
Anatomy of a Sync 3 APIM Module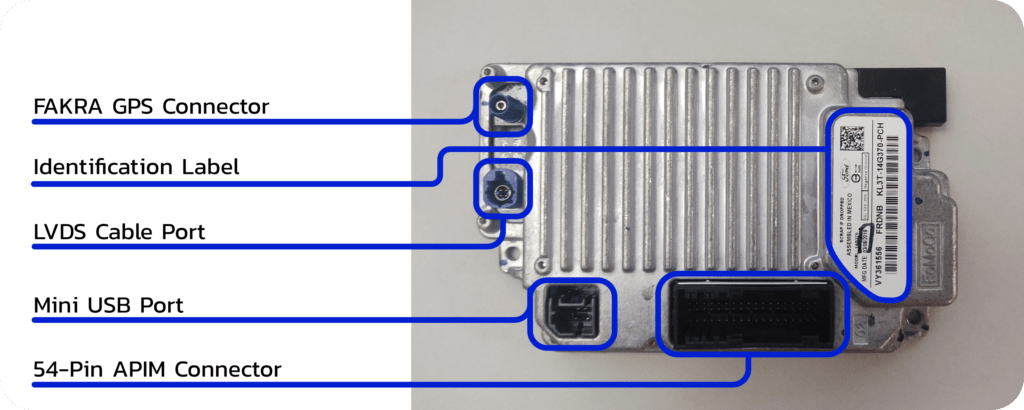 Sync 3 Gen 4
Manufacture Date: 2018+
These are the highest sought after generation of Sync 3 modules because, well, they're the newest. They feature built-in LTE for in-car WiFi hotspots, and remote vehicle starting, with Ford Pass Connect. Additional hardware is necessary for these features to work correctly.
In addition, communication architecture has been updated and may not properly work with previous vehicle generations (2011-2018).
If you're upgrading a 2019 Ford vehicle that has Sync 3, but isn't navigation, to a navigation module, you'll need a Gen 4 (2019+) module to keep your Hotspot and Remote Start from Phone capabilities.
Sync 3 Gen 2/3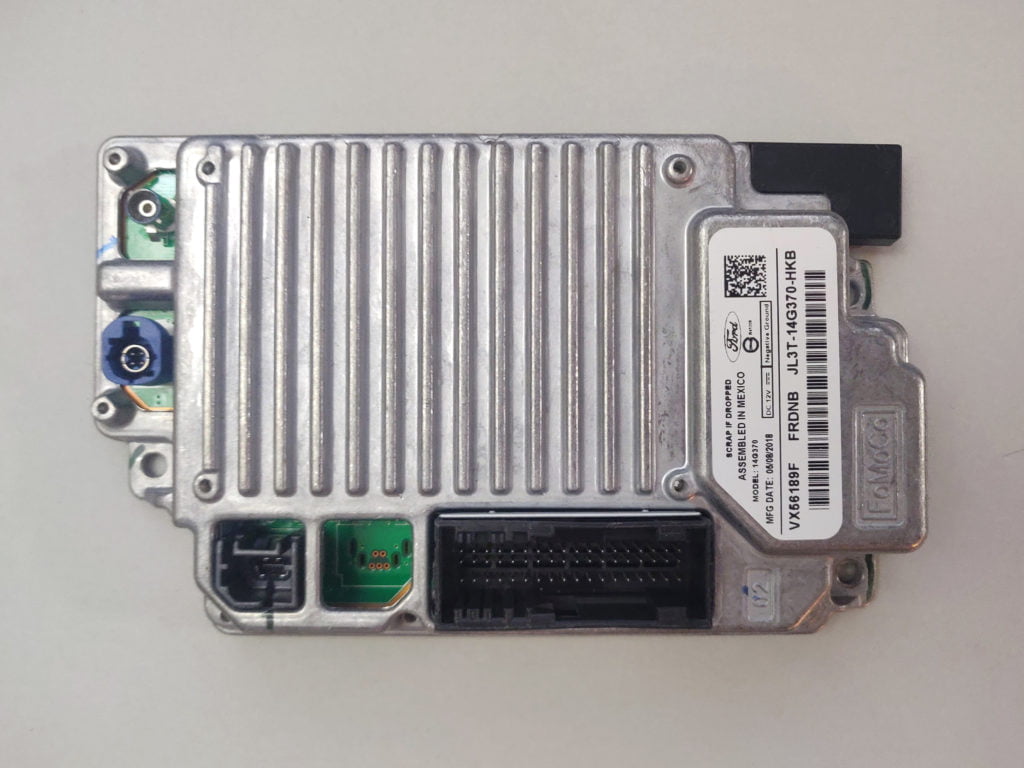 Manufacture Date: May 2016-2018
These are considered the most stable Sync 3 units, next to the Gen 4 units. If you need to do anything with a Sync 3 module and you don't need the in-car hotspot, or MyFord Pass remote start from phone capabilities (only available on 2019+ equipped cars–adding a Gen 4 Module to a vehicle that did not come equipped with these features will not give you these features), your best bet is going with a Gen 2-3 Module.
Sync 3 Gen 1
Manufacture Date: 2015-April 2016
These are the first Sync 3 units that came off of the line from Ford. These units do not have the best reputation, as Ford and their manufacturing partners were still working out the kinks to ensure these modules were reliable.
Many 2015-2016 units, both Navigation & Non-Navigation, were plagued with issues, like freezing, loss of GPS connection, and boot-looping. These issues can be fixed by replacing the daughter board inside of the module with one from a newer generation (Gen 2/3).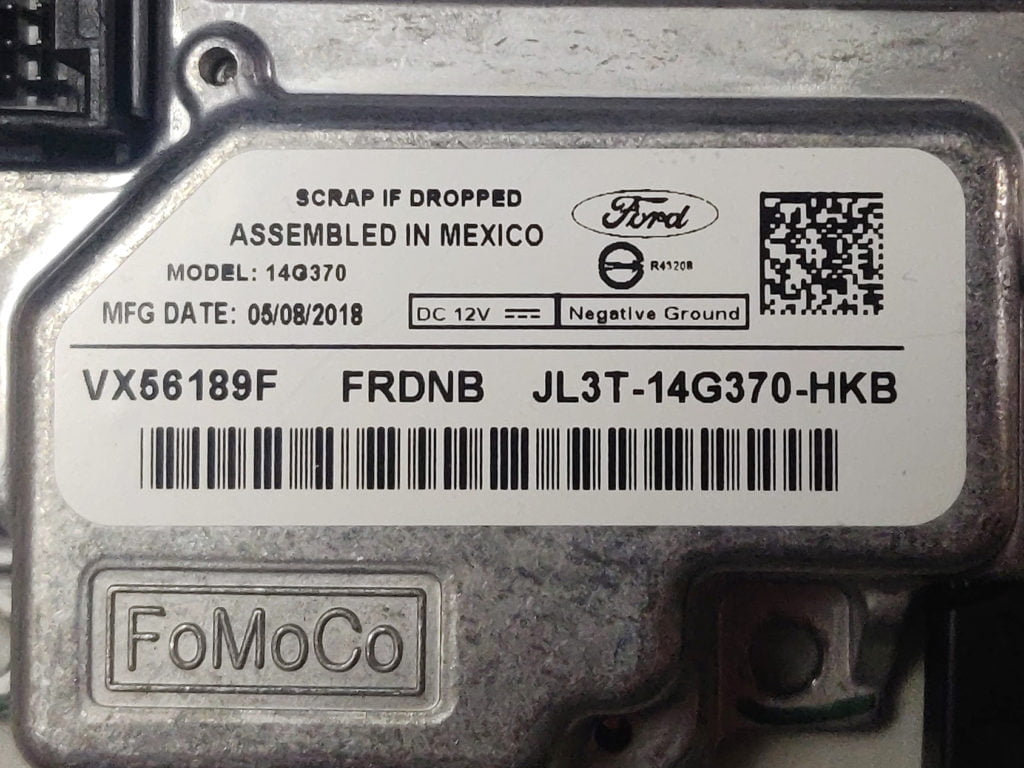 The Sync 3 Part Number Sticker
This is just about the only way you can differentiate Sync 3 units from each other. MFG stands for Manufacture Date and dictates which generation the unit belongs to (see above).
Unfortunately, there isn't a lot of data of which units are navigation and which are not. Here's a database of what we do know….
Sync 3 APIM Part Numbers
[wpdatatable id=7 table_view=regular]
What's the Difference Between Sync 2 & Sync 3 Displays?
8″ Sync 2 Display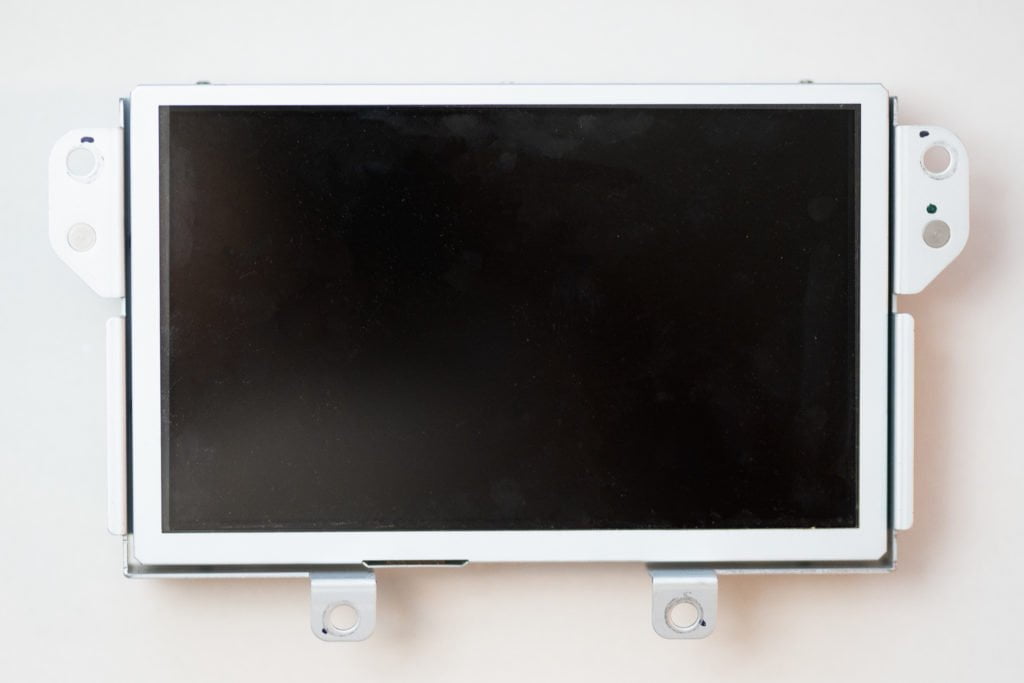 8″ Sync 3 Display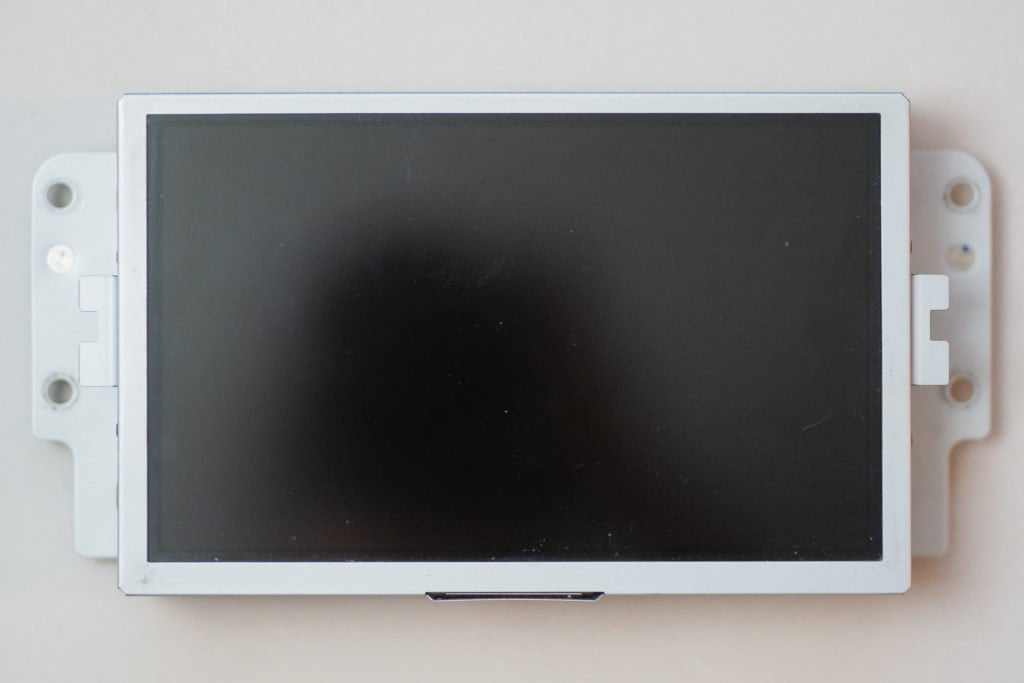 You're probably thinking that these screen are identical — but they're not. Be careful when you're buying screens because from the front they could be either Sync 2 or Sync 3! More than likely if the screen is coming from a vehicle 2016+ it is Sync 3, but take it apart and take a look either way because some vehicles like the Fusion, Explorer and the F-250/350 Super Duty trucks did not get Sync 3 until 2017.
It's all about the backside of the display…
8″ Sync 2 Display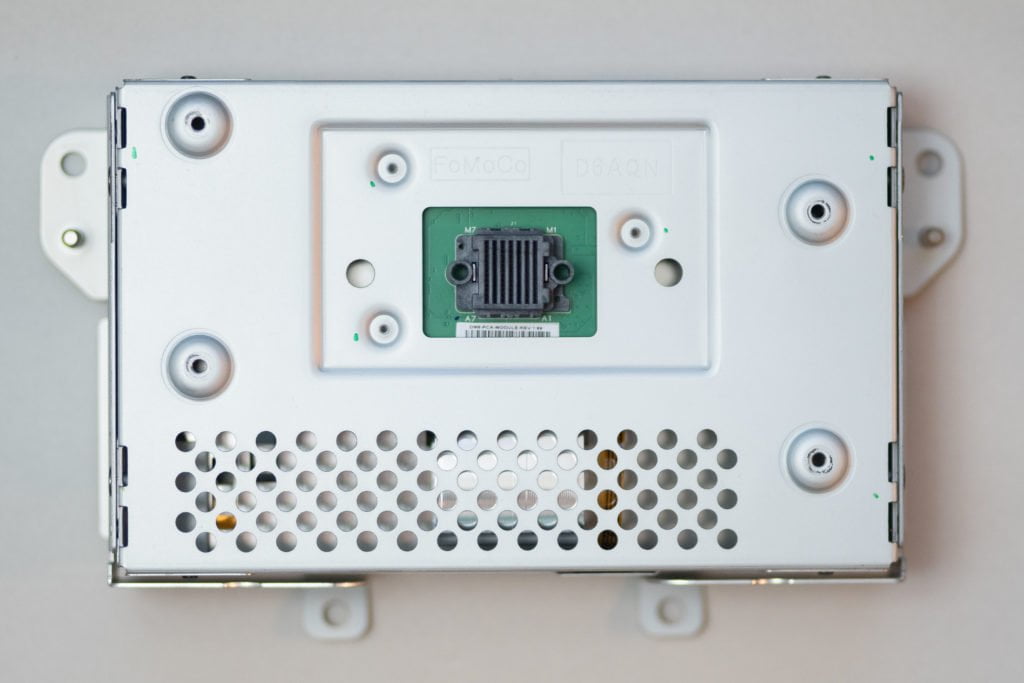 This is where you really get to tell the differences between Sync 2 and Sync 3. As you can see, the Sync 2 screen above transmits its data to the APIM through a multi-pin connector in the center of the screen.
8″ Sync 3 Display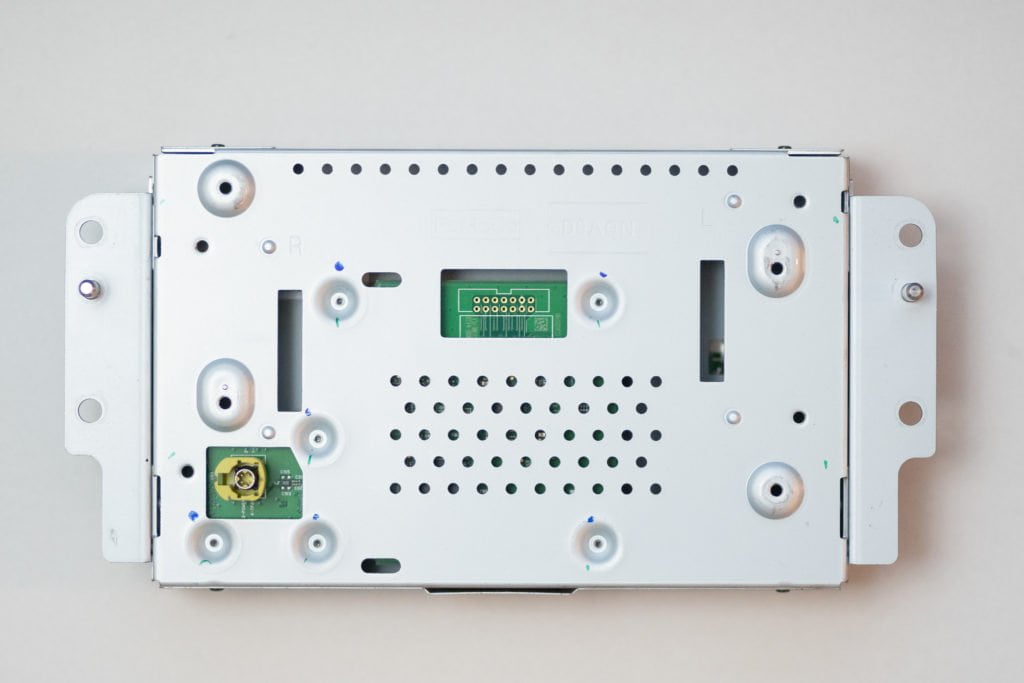 The Sync 3 screen transmits touch screen input data to the APIM in an entirely different manner — a low-voltage differential signal cable. This cable plugs into the yellow port placed at the lower-left side of the screen.
Sync 3 Screen Variations & Part Numbers
Here's where you're going to have to trust me, because I don't have pictures of all the different types of screens — but I do have part numbers and what vehicles use which screen! Let's dive into the differences and what you should be looking out for your vehicle. Find your vehicle below and note the part numbers you can use for your project. Note: this is just a list of known part numbers and their associated type of screen — there could be more!
[wpdatatable id=10 table_view=regular]
In Conclusion…
We hope you enjoyed our resouce comparing Sync 2 vs Sync 3. Hopefully now you know the difference between the two, and why Sync 3 will be the best choice for your vehicle and upgrade. If you have any questions about upgrading to Sync 3, please open a ticket with our support team. Thank you for reading, and we look forward to guiding you through your upgrade journey!